FHWA Urges Drivers to Prepare Total Solar Eclipse Travel
Posted by FHWA Associate Administrator for Operations Martin Knopp
For the first time in 99 years, a total solar eclipse will occur across the entire continental United States on August 21 – and it could affect millions of drivers. 
Fourteen states will be in the path of eclipse's totality -- from Oregon to South Carolina. The totality cuts across the country, meaning it will be seen by a large part of the population.  It is anticipated that approximately 200 million people will be within a day's drive of the total solar eclipse. Even those who can't see the total eclipse will be able to see a partial one. Lasting only two minutes or so, the eclipse will darken the country during the middle of the day when millions are on American roads, potentially causing one of the largest driver distractions in years.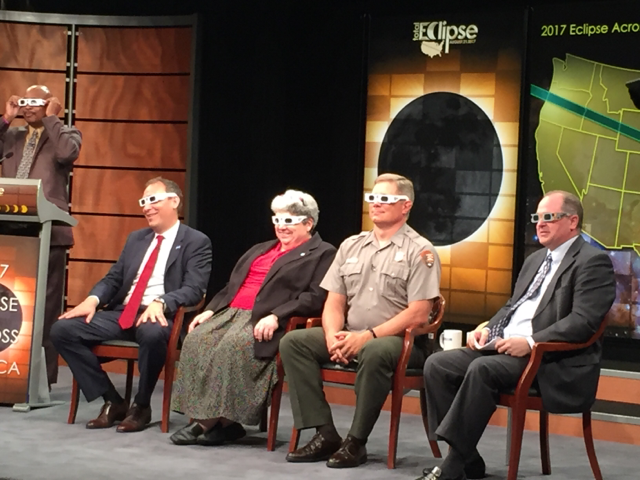 At an event led and televised by NASA,  FHWA joined the National Park Service, the National Oceanic and Atmospheric Administration and other federal agencies to emphasize the importance of viewing the eclipse safely. The only safe way to look directly at the uneclipsed or partially eclipsed sun is through special-purpose solar filters, such as eclipse glasses or handheld solar viewers. Homemade filters or ordinary sunglasses, even very dark ones, are not safe for looking at the sun.
FHWA urges drivers to not pull over at unsafe locations, such as stopping on an interstate at the last minute from which to view the eclipse. We also encourage drivers to be mindful of pedestrians and cyclists, who may also be looking skyward.
The path of totality will cross many state lines, but it will also cross more than 20 interstates.  Because the totality will also cross countless smaller state routes, county roads and city streets, it is not known exactly how many people will be watching the skies that day from their cars -- but we know it could be several million drivers. 
It will be short-lived, but we expect more traffic congestion that day.  As a result, FHWA urges travelers to plan their road trips in advance by visiting the 14 state DOT websites for real-time traveler information. 
It should also be noted that August is also the peak of highway construction season. While construction workers may not be present in work zones in locations within the path of the solar eclipse, safety devices – like barrels and changeable message signs – will be in place, posing a potential risk for distracted drivers. As always, drivers are encouraged to be watchful, alert and conscientious of others on the road.
Enjoy the eclipse, but please be safe. FHWA's Total Solar Eclipse - August 21 Web site provides safety travel tips and links to the and offers links to the 14 state DOT Web sites in the states that are in the path of the totality of the eclipse.