Connected Vehicle Pilot Deployments: Solving Tampa's Complex Transportation Issues
With more than 3,000 residents per square mile, Tampa is Florida's second-most densely populated city.[1] With no passenger rail system and limited bicycle and pedestrian amenities, the city is heavily car-centric and regularly experiences substantial traffic. To make matters more complicated, the main commuter route into and out of downtown Tampa is the Lee Roy Selmon Expressway, which has reversible lanes that change direction depending on the time of day. Because the lanes are reversible, wrong-way entry is possible leading to many rear-end crashes and red-light-running collisions.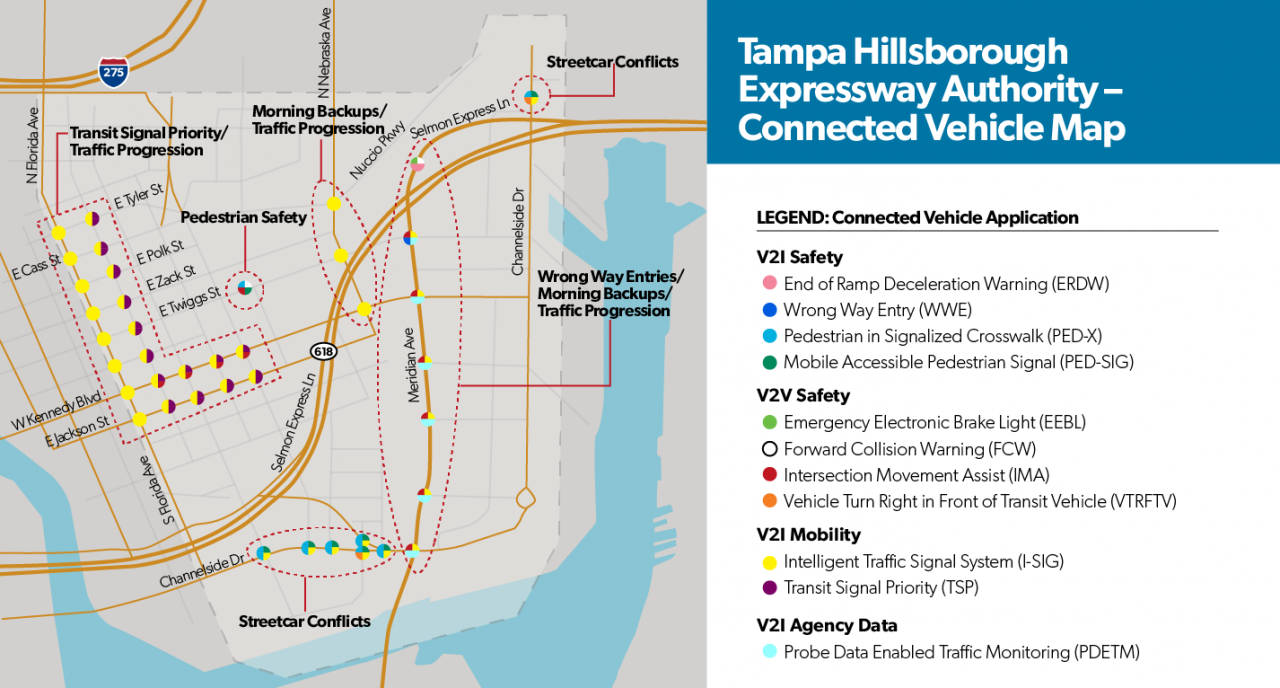 What is the solution to Tampa's traffic congestion, collisions, and other transportation-related issues?
The Tampa Hillsborough Expressway Authority (THEA) is deploying a variety of connected vehicle technologies that will improve rush-hour safety and congestion by alerting drivers on the reversible expressway of hazardous conditions, including if they attempt to enter the expressway in the wrong direction or if another vehicle has entered in the wrong direction. THEA is also using connected vehicle technology to enhance pedestrian safety; improve bus operations; and reduce conflicts between streetcars, pedestrians, and passenger cars.
THEA along with its two sister connected vehicle pilots- New York City and Wyoming – will demonstrate how connected vehicle technology can alleviate a wide range of transportation challenges
To learn more about the Connected Vehicle Pilot Deployments, please visit: https://www.its.dot.gov/pilots/.
To learn more about the Intelligent Transportation Systems Joint Program Office, please visit: https://www.its.dot.gov/.