Connected Vehicle Pilot Deployment Program: Saving Lives through Connectivity
Posted by ITS JPO
As our communities become more connected, Intelligent Transportation Systems (ITS) play an important central role in our cities, towns, suburbs, and rural communities, between regions and across state lines. Transportation system managers can best serve vital needs by applying cohesive ITS technology and effectively "connecting the dots" of information from various factors that affect transportation operations, such as  weather, congestion, accidents, and unanticipated emergencies.
A flagship effort of the USDOT ITS program is the Connected Vehicle Pilot Deployment Program, funding large-scale Connected Vehicle system implementation efforts led by the New York City Department of Transportation (NYCDOT); the Tampa Hillsborough Expressway Authority (THEA); and the Wyoming Department of Transportation (WYDOT). Similar, interoperable technologies are being used differently at three pilot sites to improve safety in environments as diverse as dense urban grid networks and isolated high-plains interstates.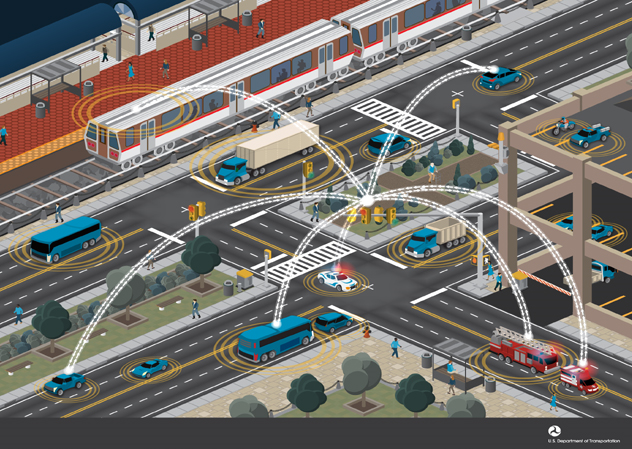 Connected vehicle technologies are being used to improve safe and efficient truck movement along I–80 in Wyoming, utilize vehicle-to-vehicle and intersection communications to improve vehicle flow and pedestrian safety in New York City, and deploy multiple safety and mobility applications along reversible freeway lanes in Tampa.
The resulting data from these pilots will provide the foundation for the creation of even more powerful applications to support large scale safe, efficient and secure interoperable ITS infrastructure, connected vehicles and mobile devices.
In the coming weeks, more details specific to each pilot site will be released here on the Connections blog. To learn more about the Connected Vehicle Pilot Deployments, please visit: https://www.its.dot.gov/pilots/.
To learn more about the Intelligent Transportation Systems Joint Program Office, please visit: https://www.its.dot.gov/.