Buckle Up Every Trip, Every Time
Posted by NHTSA Public Affairs
With endless new vehicle safety technologies coming to market, one safety technology remains a constant in every vehicle: the seat belt. This basic foundation of safer driving saved 13,941 lives in 2015, alone. However, 2,804 additional lives could have been saved if everyone had buckled up. That's why NHTSA remains committed to convincing every American to always buckle up—every trip, every time.
Between 1960 and 2012, seat belts saved 329,715 lives, more than all other vehicle technologies combined. Thanks to a combination of the enforcement of seat belt laws and public awareness campaigns, seat belt use reached a record high of 90 percent in 2016, up from about 83 percent a decade ago. That's progress—but it also means that, every day, millions of people put their lives at risk needlessly because they don't buckle up.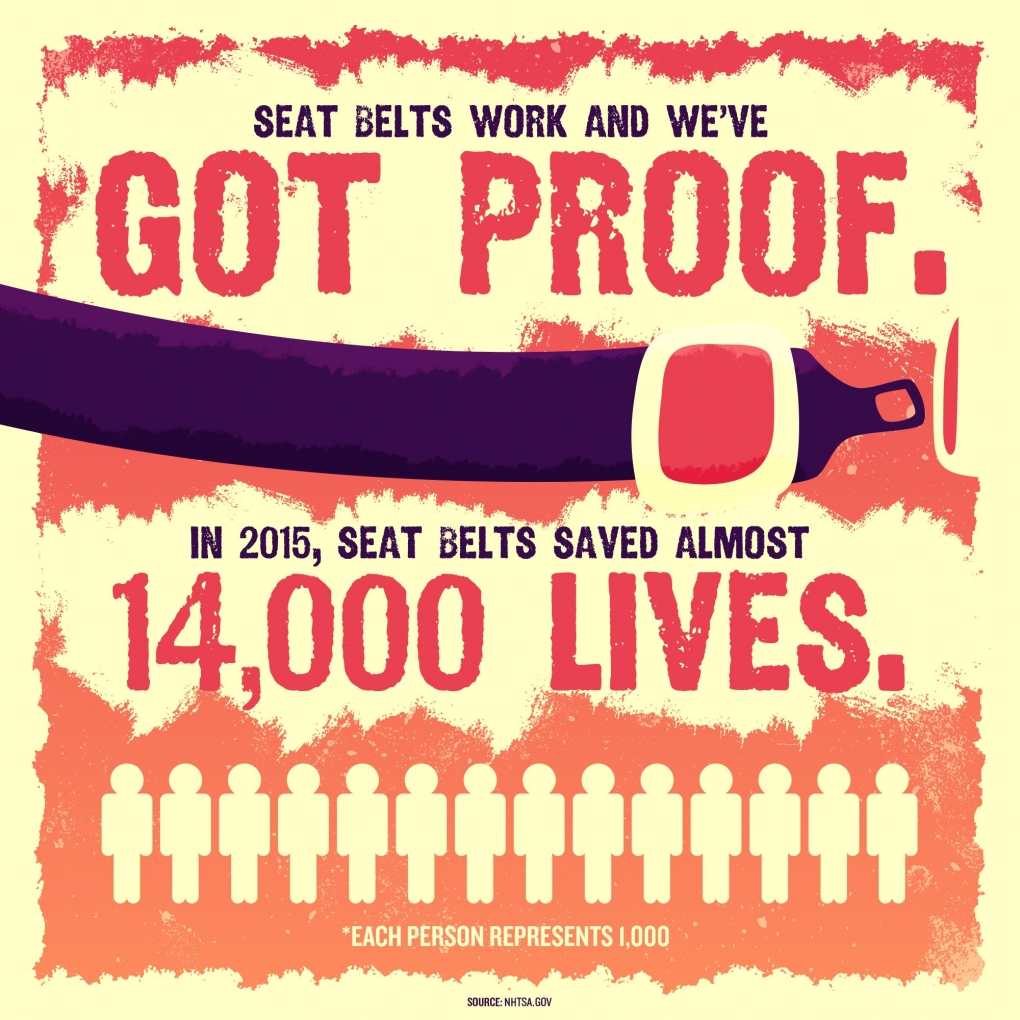 Our annual "Click It or Ticket" national mobilization is one of our best tools for increasing awareness and belt use. This year, it started on May 15 with advertising that explains the importance or wearing seat belts and the dangers of not buckling up. If you don't heed the warnings and obey the law, it'll be backed up by law enforcement, who will be making a special effort to hand out tickets for failing to buckle up between May 22 and June 4.
We know that tougher laws result in higher seat belt use rates. Primary seat belt laws, which allow drivers to be pulled over just for failing to buckle up, have achieved seat belt use rates above 92 percent. States without primary laws, where a driver must first commit a separate violation before they can be pulled over and ticketed for failing to wear a seat belt, achieved rates of only 83 percent.
Seat belts remain your first line of defense in a vehicle crash and are your first step toward safer driving. Check out our seat belt tips:
Air bags are designed to work with seat belts, not replace them. In fact, if you don't wear your seat belt, you could be thrown into a rapidly opening frontal air bag; a movement of such force could injure or even kill you.
Unsure how to wear your seat belt? The lap belt and shoulder belt are secured across the pelvis and rib cage, which are better able to withstand crash forces than other parts of your body.
Fit matters: Before you buy a new car, check to see that the seat belts are a good fit for you. If you need a roomier belt, contact your vehicle manufacturer to obtain seat belt extenders. If you drive an older car with lap belts only, check with your vehicle manufacturer about how to retrofit your car with today's safer lap/shoulder belts.
Although we've made enormous progress in increasing seat belt use, there still far too many people dying needlessly because they are not buckled up during crashes. Before you even turn the key, you and everyone in your vehicle should be buckled up—every trip, every time.