American Association of Port Authorities Federal-State Relations Meeting
As many people know, Secretary of Transportation Elaine L. Chao began her career as Deputy Administrator of the Maritime Administration, which is one reason we were happy she spoke this week at the American Association of Port Authorities (AAPA) conference.
At the Maritime Administration we share the Secretary's conviction that a healthy port infrastructure is important to the U.S. economy. Ships, after all, carry $1.5 trillion of U.S. foreign trade, and there are nearly 400,000 jobs associated with the U.S. commercial shipbuilding and repair industry.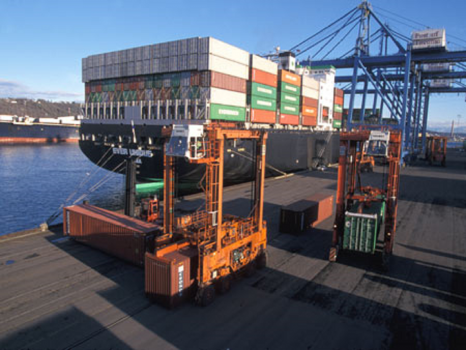 Like much of our nation's transportation system, however, U.S. ports are in need of modernization. They require expansion and repair in order to accommodate the largest container ships from other nations and to survive in an intensely competitive global market.
Infrastructure can be financed in many ways and MARAD continues exploring options to deliver the greatest cost-benefit to the public. The Port Planning and Investment Toolkit is designed to help ports implement investment grade projects, especially among small and medium-sized ports. The Toolkit provides proven guidelines for effectively planning successful port projects, evaluating cost benefits and alternatives, obtaining grants and public/private financing, and incorporating best practices throughout. For example, consider the following:
The Toolkit's Planning Module provides guidance on the factors needed to successfully plan a port project. It clearly defines the steps and requirements for successfully financing a project.
The Feasibility Module can help refine a project plan by examining all aspects of cost, risk, and reward. This module demonstrates how to measure and evaluate the benefits and costs of project alternatives.
The Financing Module describes different approaches for evaluating funding and financing options.  It identifies ways to obtain grant funding, but also mechanisms to advance public-private partnerships. And it contains real-world examples that demonstrate best practices in port planning, feasibility analysis and financing.
Other sections can help with developing port-specific trade forecasts, or assessing a port's throughput capacity.  In summary, the toolkit can help your team develop better plans more rapidly, as well as assess innovative financing options.
MARAD understands how critically important our maritime industry and port infrastructure is to this nation. Along with the USDOT, MARAD looks forward to partnering with the maritime industry – and all transportation modes – in rebuilding America's infrastructure. In the process, we will be charting a course toward greater prosperity, more jobs and increased opportunities for all U.S. citizens.