USMMA Alum leads NY National Guard company in Afghanistan
The entire U.S. Merchant Marine Academy community is proud of our rich history of service. Since the Academy was established in 1943, Kings Point alumni have served in every overseas conflict and have assisted communities here at home during crises and natural disasters like the 9/11 terrorist attacks and Hurricane Sandy.
This month, that proud traditions continues as CPT David Taliaferro (USMMA '07) leads 130 soldiers of the New York Army National Guard's 133rd Quartermaster Company during their mobilization and deployment to Afghanistan in support of Operation Enduring Freedom.
As US involvement in Afghanistan winds down, there is much work to be done. Quartermasters are traditionally associated with supply missions, but at this stage in Operation Enduring Freedom, CPT Taliaferro and the 133rd will be part of the U.S. Central Command Materiel Recovery Element (CMRE). They will spend the next 12 months facilitating base closures and consolidating equipment throughout Afghanistan.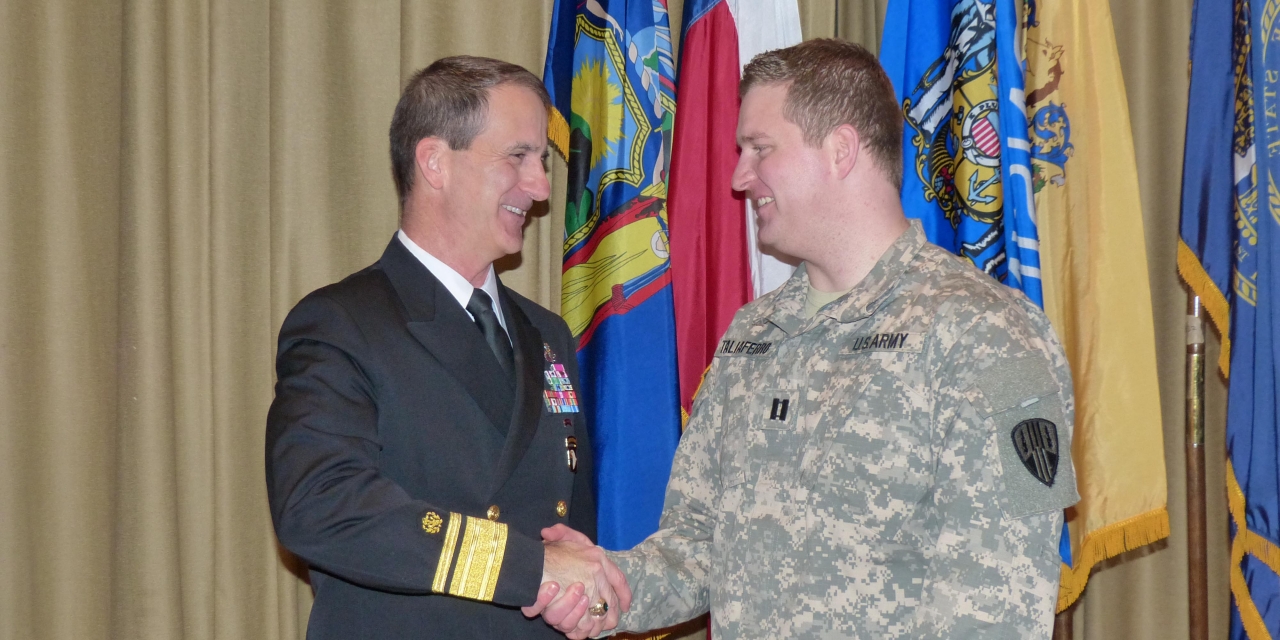 Captain Taliaferro was selected as commander based on his outstanding previous leadership experience overseas in support of Operation Iraqi Freedom / Operation Enduring Freedom and domestically during Sandy.  Taliaferro credits the Academy for his preparation, noting that, "Until Hurricane Sandy, my experience was primarily with the infantry. It's a plus that my degree from Kings Point is in Logistics."
At a pre-deployment ceremony at Fort Hamilton, NY, on February 22, USMMA Superintendent RADM James Helis--himself a veteran of Afghanistan--spoke to the soldiers and their families.  RADM Helis told the families their soldiers were as well trained, equipped, and ready as they could be for the mission. He also thanked them for their support, saying, "Your dedication, commitment, and courage are as important to the mission as that of your soldiers, and our nation owes you a debt a gratitude for your sacrifices."  
Turning to CPT Taliaferro and his soldiers, he reminded them to stay focused on their mission and take care of each other.
CPT Taliaferro carries on a long USMMA tradition of leadership and service to our nation, and everyone in the Kings Point community thanks him for this and wishes him and the 133rd a safe return home.

As part of their service obligation, graduates of USMMA serve as officers in all branches of the military.  Most will serve as reserve officers in the United States Navy while sailing as Licensed Merchant Mariners. However, each year approximately twenty-five percent accept active duty Commissions as officers in the Navy, Air Force, Army, Coast Guard, and United States Marine Corps.